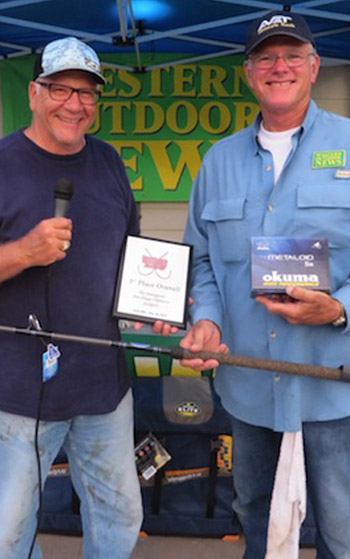 Book a trip on June 30th for a chance at big dollars and big prizes in one-day charter event at H&M Landing with the 3-boat field now a full dozen sportfishers (see below)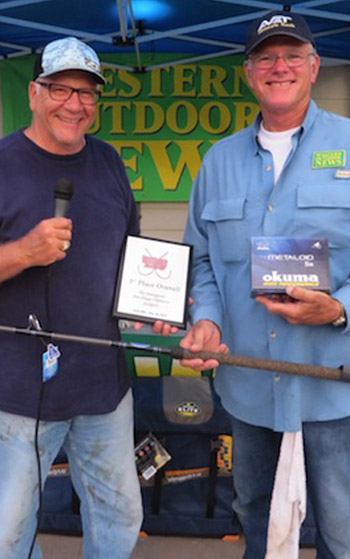 POINT LOMA — For any angler that ever dreamt of competition on the big boats for big fish this one is the one you. With so many spots and loads of sponsor supplied prizes along with huge cash and a very promising upcoming season it's time to get busy and get signed-up.
Starting out with the inaugural event showing just 3 boats last year, the 2016 WON-San Diego Offshore Jackpot comes out with guns blazing.
Slated to run with a June 30, 2016, 9:00 p.m. departure, and fishing all the next day, boats will be loaded with anglers aiming to win the shooting match at weigh-in 7:00 p.m. Friday evening. Twelve of the very best sport boats from H & M Landing are getting ready for the event:
Once the boats have filled the prize money totaling $ 6,580 will be going to the anglers that hit the mark.
"This competition is like no other because not only are there prizes being given for big fish but the perpetual trophy honors will be awarded to the top boat getting the winning fish, to be displayed in the hallowed halls of H & M Landing for all to see," explained boat owner and H & M Landing manager, Frank Ursitti.
"This event is fast becoming the backbone of our summer season and a highlight of the San Diego offshore angling year," concluded Ursitti.
While last year's event was filled with exciting fishing the upcoming WON-San Diego Offshore Jackpot will blow that competition away.
"For one thing we have streamlined the registration by having all registrants sign up with the landing in advance of the event," says WON Tournament Director, Connor Johnson.
"And we have a slick new set of simple rules that makes everything easier at weigh-in. Each boat brings in their three heaviest fish and those get weighed-in regardless of species, within the tournament guidelines," added Johnson.
Three places will be paid-out and the first place angler gets $3,310 and is honored by having his or her name engraved on the perpetual trophy. All prizes are based on a full complement of anglers participating.
Having coverage of the event by WON Editor, Bob Semerau, and a team of reporters across the competing boats, gives everyone a shot at sharing their success in the pages of Western Outdoor News.
Tournament sponsors like Costa Sunglasses, Okuma, Cousins Tackle, Trokar, Sufix, Yo-Zuri, Plano, Turner's Outdoorsman, and many others will be giving away tons of gear at weigh-in raffles.
During the 2015 event, angler Paul Navlan boated a 37-pound bluefin for overall first place winnings. Taking the prize money and tons of gear was nice but the best part is that Navlan's name will forever be emblazoned on the perpetual trophy as having won the inaugural WON-San Diego Offshore Jackpot.
"Predictions are difficult, but with the earlier date of the event and the continuing strong yellowtail bite here in the offseason, there stands a great chance that the El Nino will continue to bless the waters off San Diego with swarms of big bluefin and yellowfin as well as the usual bruiser yellowtail," said hopeful landing manager Frank Ursitti.
To make the 2016 WON San Diego Offshore Jackpot and even better bet for anglers, the price is phenomenal. At just $275.00 per person, which includes the Jackpot buy-in, t
his is a great tournament to plan for and nail a few big fish.
The chance to get out with some of the top sticks in SoCal along with a few first time offshore anglers, take a shot at some serious cash and prizes, it seems the 2016 WON San Diego Offshore Jackpot should be high on the radar of all local anglers.
Contact:
H & M Landing 619-222-1144 or book online at www.HMlanding.com