September 2, 2016
39 Yellowfin Tuna on the First String today!
No California license is needed to fish tomorrow!  FREE LICENSE DAY!
Still lots of room on the Premier 1/2 day pm & twilight trips for tomorrow!
Tomorrow is the last twilight trip for the year!
September 1st, 2016
The Producer called in 26 Bluefin Tuna and 1 Yellowtail so far this morning on a one day trip!  They still have time to catch more!  Lots of openings through the week so come join the quest for a fish of a lifetime!
The Legend  returned this morning with 42 Bluefin tuna up to 200+ pounds, and The Constitutuion returning with 28 Bluefin 1 Yellowfin and 1 Yellowtail
All the captains are saying, "bring your heavy gear, these are huge fish!"
Check out the schedule on our trip calendar for availability!
August 30, 2016
The Old Glory finished up with a GREAT score of 33 Bluefin  up to 80 pounds.  We have trips scheduled daily!
Bluefin! Yellowfin! Yellowtail! Bonito!
What's on your Labor Day Barbecue Menu?
Check out the H & M Trip Menu
August 28, 2016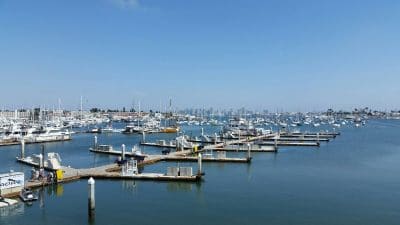 Do You Know what 510 Anglers Know?
2016 is on track to be the best year for fall fishing in recorded history ! Your personal best Yellowfin and Bluefin Tuna of "size & weight" is just a click away. Book your September / October trip today and go fishing with the best in the west at H & M Landing.
Whether fishing 3/4 day at the Coronado Islands with the Malihini, 1/2 day at local kelp beds with the Premier or Offshore on any other of H & M's open party or charter trips- the FISHING is GOOD and the CATCHING is GREAT!
check out these numbers reported today!
August 27th, 2016
The Ranger 85, Constitution & Sea Adventure 80 are having GREAT trips.
Sea Adventure 80 has 6 Bluefin tuna &  15 Yellowfin tuna up to 90 pounds.
The Ranger has 16 Bluefin tuna and 3 Yellowfin tuna.
The Constitution has 26 Bluefin tuna 25 to 95 pounds!
Boats are reporting lots of fish around and very nice weather!
August 26, 2016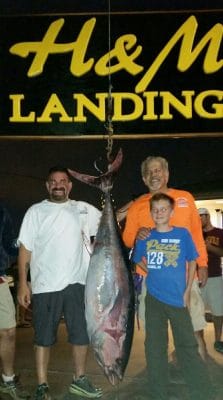 Another Big Blue pulled in on the Ranger 85! 127 pounds!
197 Anglers returned to the H & M Landing dock with 36 Bluefin Tuna, 65 Yellowfin Tuna, 56 Yellowtail, 72 Bonito, 122 Rockfish, 38 Sculpin, , 15 Calico Bass, 2 Lingcod, 2 Sheephead, 1 Dorado.
More Fish in the Sea ! Quit Wishin! GO FISHIN!
August 25, 2016
 10 Bluefin on deck of the Ranger 85 up to 90 lbs.
The Constitution returned with 19 Yellowfin Tuna and 3 Bluefin Tuna (70-110 lb)
Good Yellowtail fishing continues at the Coronado Islands on 3/4 Day trips.
H&M Landing has the most variety of trips and daily departures on the west coast!
August 24, 2016
Bring your heavy gear!
The Relentless just checked in with 50+ mixed Yellowfin and Bluefin Tuna and just getting started!
The Producer caught some quality fish today.  3 Yellowfin tuna up to 80 pounds and 12 Bluefin tuna up to 170 pounds!
We have trips departing daily, reserve yours today!
August 23, 2016
The Sea Adventure 80 checked in with 25 Mixed Bluefin and Yellowfin all these fish were 60 to 125 pounds!  Great quality fishing and beautiful flat calm weather.
The Ranger 85 checked in starting their day with 10 Bluefin up to 100 lbs.
Producer  finished their day with 3 Bluefin up to 150 pounds and 52 Bonito!
Constitution came in this morning with 9 Yellowfin Tuna 70-85 Lbs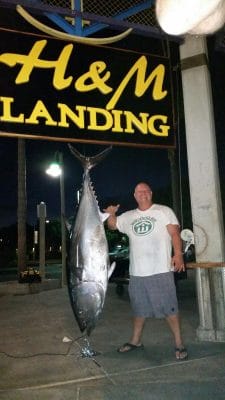 The Ranger 85 went to Cow Town and Brad Frazier returned from the rodeo with a nice 224lb Bluefin.
Congrats Brad.
Whether your looking for an offshore adventure, an exciting island trip or a half day coastal outing, we have the trip for you.
Reserve your moment in history today by clicking here.
August 22 2016
The Ranger 85 just called in with 9 bluefin tuna from 70 yo 90 lbs!  One Bluefin Tuna 200+ lbs!!!! Not to be ignored, 4 yellowfin tuna of 70 to 90 lbs!
The Sea Adventure 80 just called in with Three tuna 80lbs+ on the boat, two hooked up, and lots more swimming around the boat!
August 21 2016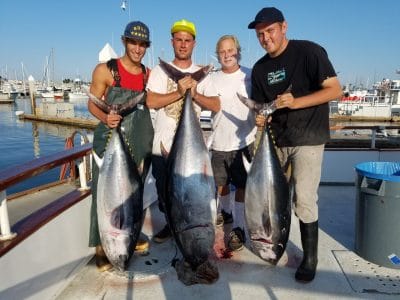 124 pound Bluefin caught on the Sea Adventure II
The Constitution came in with a GREAT catch of  41 Yellowfin (40-80 lbs),  8 Bluefin  (75-110 lbs), 1 Dorado and 1 Yellowtail!
The Sea Adventure 80 returned with 30 Yellowfin (up to 99 lbs), 8 Bluefin and 2 Bull Dorado!
August 20, 2016
14 Bluefin and 25 Yellowfin on board the Producer – up to 100 lbs!
Early morning report from The Consitution: 10 Yellowfin and 1 ninety pound Bluefin!
The Ocean Odyssey has limits of Dorado (40)!
Check back tonight for updates and final reports!
August 19 2016
Keith on the Constitution called in with 13 yellowfin tuna from 60 to 90lbs, and 4 bluefin of 75 to 90 lbs!    Don't miss out on one of the best local big fish years ever!
The Chief returned from a 1.5 day with 77 yellowfin tuna for 20 anglers!
The Legend just returned from it's 2.5 day trip with 167 yellowfin tuna!  Lots of fish out there from 10 to 100 lbs.
Don't let the summer tuna bite go off without you, BOOK NOW!
August 18, 2016
The H&M Fleet is reporting GREAT Yellowfin Tuna fishing!
The Chief is coming home tomorrow morning with 77 Yellowfin!
The First String is returning with 68 Yellowfin Tuna, 43 Dorado & 22 yellowtail from a 2 day trip!
The Old Glory has 71 Yellowfin.
The Producer just checked in with 70 Yellowfin Tuna.
Big Yellowfin are on the chew!  The final count for Constitution 53 Yellowfin Tuna (up to 110 Lbs)
Ranger 85 returned with 44 Yellowfin up to 84 lbs.
The Malihini just called in with 70+ Yellowtail in the 18-25 pound range
Those fishing upcoming trips come diversified with 20, 30/40 and 60lb!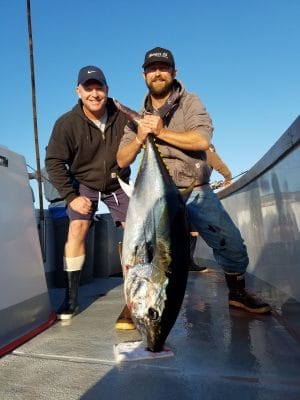 August 17, 2016
Great time on the Malihini  with 155 Yellowtail! LIMITS!
Reports from our fleet have the guys finding good schools of LARGE YELLOWFIN TUNA.
Capt. Kley on the Old Glory checked in with 57 Yellowfin onboard.
Capt. Chuck on the Legend  called in with 67 Yellowfin so far!
Keith on the Constitution checked in with 50 YFT to 110lbs!
The Reel Champion reported (LIMITS) of Yellowfin  for their 6 anglers.
The tide is changing, and the tuna are biting!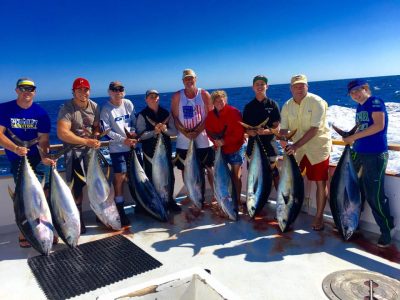 Constitution scores BIG YELLOWFIN!
Sea Adventure 80 returned with 48 Yellowfin Tuna and 1 Dorado
Reserve your spot today for what is just the start of BIG THINGS TO COME!
Have you stopped in our store? Take a walk around and get your official H&M Gear today!
August 16, 2016
The weather is heating up and so is the fishing!
Here we go, the Constitution just called in with 48 Yellowfin Tuna (13 of those are 70-120 pounds), 8 Dorado and 2 Yellowtail!
Malihini had a GREAT day today they caught 85 Yellowtail (LIMITS) and 26 Bonito.  The Sea Adventure also caught 110 Yellowtail (LIMITS)
These fish are 15 to 25 pounds!
August 15, 2016
.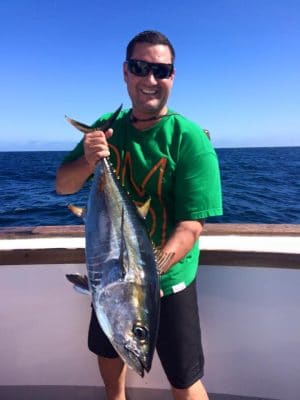 Yay Yellowfin !
25+ Yellowfin Tuna on the Legend!
3 Bluefin Tuna and 20+ Yellowtail on the  Ranger 85!
August 14, 2016
Come and hook them! Plenty of fish still out there!
Sea Adventure 80 has 39 Yellowfin Tuna so far for today on their overnight trip!
Ranger 85 returned with 42 Yellowfin tuna, 1 Dorado and 1 Yellowtail!