September 20, 2016
Constitution had a GREAT DAY they wound up with 83 Yellowfin Tuna (15-30lbs) for their 18 passengers!
 The Sea Adventure 80 returned with 21 Yellowfin Tuna for 29 anglers on a 1.5 day trip. Also the ranger 85 returned this morning from a 1.5 with 39 Yellow fin for 29 anglers. These fish are healthy the boat crews say these fish are 25 – 40 pounds, 20 – 40 pound fluorocarbon is highly recommended. Our Premier 1/2 day boat did excellent yesterday afternoon taking home 83 Rockfish  for 13 anglers, with trips departing daily at 6:30am and 1:00pm. Get them while you can, give us a call. This just in -our 3/4 day boat Malihini will be fishing offshore until next Thursday. No Passport Required.
September 19, 2016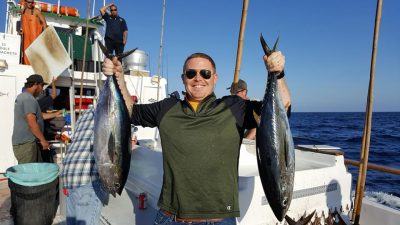 35 Yellowfin Tuna Today! The Malihini is continuing their 3/4 day run OFFSHORE freelance fishing for Yellowfin Tuna! Trips depart daily and No passport is required! Get on board : More Malihini
544  Yellowfin Tuna return to H&M in a combined catch of the Top Gun 80, Legend, Constitution, Relentless, Daiwa Pacific and Producer trips.
Have you been to the H&M Landing online store?  → http://shop.hmlanding.com
Are You an H & M Landing Facebook Friend ? →http://www.facebook.com/hmlanding/
Have You Sent in Your H & M Fishing Trip Photos and Videos? →Post@hmlanding.com
Have Booked Your Next Adventure with H & M Landing? →http://www.hmlanding.com/trip-calendar
September 18, 2016
The Constitution returns at 5 am Monday morning from a 2.5 day trip with 203 Yellowfin Tuna up to 40 lbs!
The Faith caught 25 Yellowfin Tuna for only 5 Anglers!
The Malihini  caught 34 Yellowfin Tuna  today!
The Legend called in with 151 Yellowfin Tuna! Still fishing!!
The Ocean Odyssey returned with 54 Yellowfin Tuna and 34 Yellowtail.
The Alicia, with 6 passengers caught 36 Yellowfin Tuna, and 6 bonito!
The Daiwa Pacific returned with  71 Yellowfin Tuna!
Don't Let the 2016 Season Get Away! Book Today!
September 17, 2016
The Alicia returned early from a 1.5 day trip with 38 Yellowfin Tuna & 6 Bonito for 6 lucky anglers!
The Constitution called in with their early update with 51 Yellowfin Tuna from 25 to 35lbs!
The Old Glory finished with 37 Yellowfin Tuna and 2 Yellowtail today.
The boats are all reporting seeing lots of fish!  Keep posted to see if the fish want to play again!
September 16, 2016
The boys on the Malihini has 36 Yellowfin Tuna and are reporting nice conditions offshore.
Come diversified with your tackle. 20/25lb as well as 40/50lb.
We have trips departing this weekend.
For the complete schedule for your next adventure, click here!
September 15, 2016
Top Gun 80 returned this morning with 185 Yellowfin Tuna, 25 Bluefin Tuna and 175 Yellowtail!
The Ocean Odyssey is bringing in 26 Yellowfin Tuna up to 70 lbs!
Book your trip now and come catch them!
September 14, 2016
 The Sea Adventure II is a definite go departing at 5:30am Thursday morning  for 3/4 day offshore!
Daiwa Pacific called in with 56 Yellowfin and 5 Bluefin on their overnight trip for only 12 anglers!
We heard from the Top Gun 80 they had an awesome 5-1/2 day trip.  Their 22 anglers caught 175 Yellowfin (25-40 pounds,) 25 Bluefin (up to 90 pounds) and 175 Yellowtail (15-35 pounds) & still fishing!
Check out the trip calendar for our September and
October long range trips.  Do not miss out out on this GREAT fall fishing!
The Sea Adventure ll came in from a 2.5 day with good counts. 72 Yellowfin Tuna, 1 Bluefin Tuna, 7 Rockfish, and 6 Yellowtail.
The fish are hungry and biting! Get your piece of the action!
September 13, 2016
 Today overall was a GREAT day of fishing.  The Yellowfin really wanted to bite.  Our fleet caught almost 200 Yellowfin, 2 Bluefin and 64 Yellowtail!
We have Full Day and 1.5 Day Trips departing this evening and 3/4 day in the morning!
619 222 1144
It's game on.
Quit Wishin & Go Fishing!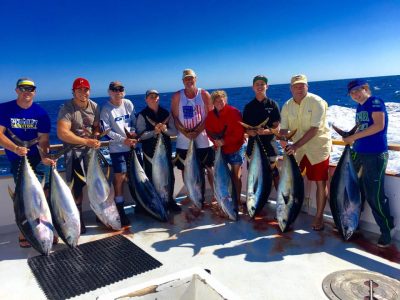 September 12 2016
SOME GOOD REPORTS FROM THE FLEET THIS MORNING
The Relentless came in with 92 yellowfin tuna from 18-30lbs for their 20 fishermen!
The Ranger 85 caught 37 yellowfin tuna,13 bluefin tuna, and 2 yellowtail!
The Legend brought home 31 yellowfin, 13 bluefin, 47 yellowtail, and 50 bonito!
The Constitution caught 112 yellowfin tuna from 18 to 70 lbs, 3 bluefin tuna, and 47 yellowtail!
Great oportunites!  Book now before the tuna window closes!
September 11, 2016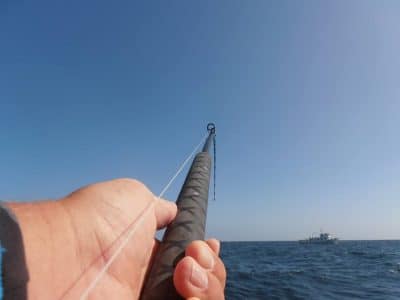 378 Yellowfin Tuna, 8 Bluefin Tuna on 6 Boats
The Ocean Odyssey reported 136 Yellowfin Tuna on a 1 day trip!
The Old Glory and the Producer depart for a Full Day tonight- plenty of space for You too!
The Malihini is scheduled for 3/4 day fishing Freelance OFFSHORE thru the week! No Passport Required!
595  Fisherman on the water with our Fleet today!  You can bother with the rest, but H&M Landing is the Best! There's something for everyone Departing Daily !
T
September 10, 2016
The Constitution and Daiwa Pacific called in a combined catch of 186 Yellowfin Tuna! Both boats are on 2-1/2 day trips. Check back for final reports!
The Malihini will be offshore freelance fishing thru the next week. This 3/4 day trip will be on the hunt for Tuna! No passport is needed!
The Season is far from from over! Quit wishing and Go fishing! You're Just a CLICK away!
September 10, 2016
First call of the day!  The Constitution just called in with 100 yellowfin and flat calm seas!
Top Gun 80 just called in with 10 bluefin tuna from the morning bite from 70 to 100 lbs!
September 9, 2016
Great Yellowfin Tuna fishing for the fleet today!
The Malihini caught 78 Yellowfin Tuna!
31 Yellowfin Tuna on board the Ocean Odysssey.
38 yellowfin tuna and 4 bluefin tuna on board the Sea Adventure 80.
The Constitution returned with 22 yellowtail and 1  yellowfin tuna,
The Top Gun 80 returned with 9 yellowfin tuna, 45 bluefin tuna (45 – 150 lbs) and 13 yellowtail!!
63 Yellowfin on board the First String!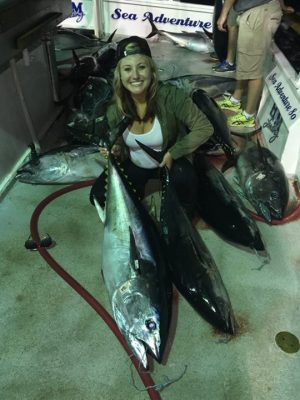 Fishing is still Good! Don't let your 2016 Fish Story get away! Book Today !
Back to School ? Holiday Surprise ? Just Because ? Get your official H & M Gear Here !
September 8th, 2016
The Producer caught 49 Yellowfin Tuna today on their 1-day trip and the Premier caught 34 Yellowfin Tuna on their 3/4 day charter!
The Malihini is fishing offshore Friday! No Passport needed!
The fun and adrenaline still continue!
Ranger 85 came in this morning with 31 Bluefin Tuna (90-100 lbs)
Ocean Odyssey  returned with 37 Bluefin Tuna (up to 90 lbs) and 3 Yellowtail.
The Daiwa Pacific returned with 9 Bluefin Tuna (up to 100 lbs).
September 7th, 2016
Before the season ends come and catch your BIG Tuna!!
Captain JD McGriff on the Fisherman III is coming in from a 3/4 day with 42 nice Yellowfin Tuna over 25 lbs!
Constitution came back with 32 Bluefin Tuna (75-95lbs)
Sea Adventure 80 with 42 Bluefin Tuna (50-100lbs)
The Malihini will be fishing 3/4 day offshore September 9 and September 13 & 14.
No passports required!
September 6th, 2016
We've heard from The Constitution, Sea Adventure 80, Ranger 85 and the Top Gun 80 today, they are all reporting EXCELLENT Big Bluefin Tuna fishing.  These fish are all 70-95 pounds.  Bring your heavy gear, these are monster fish, come prepared for the battle!  They are reporting very nice weather!  We have trips scheduled every day fishing for these fish of a lifetime.  Do not miss out book now!
September 5, 2016
Big day of returning boats today!  Thr Ranger 85 returned from it's 1.5 day with 19 bluefin from 70 to 90lbs, and 1 yellowtail.
The Ocean Odyssey brought in 41 bluefin tuna from 70 to 90 lbs and 1 yellowtail from its 2.5 day!
The Constitution brought in 42 bluefin tuna from 75 to 105 lbs from its 2.5 day trip!
The Sea Adventure 80 came back from its 3 day with 44 bluefin from 70 to 125 lbs!
The Legend caught 21 bluefin tuna from 73 to 110 lbs. 1 yellowtail, and 70 rockfish!
As you can see these are BIG MONSTER BLUEFIN, we cannot stress enough bring your heavy gear, 50 to 100 pound test line, fluorcarbon leaders, flat falls and poppers!  If you want to have a fighting chance to catch one of these fish of a lifetime come prepared for battle!
September 3, 2016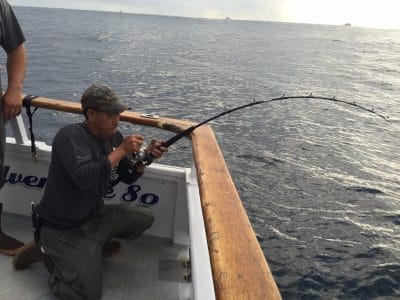 Get Ready to Rumble!
the BIG Blues are Back!!!
18 Bluefin on the Ocean Odyssey, 16 Bluefin on the Sea Adventure 80 and 18 Bluefin on the Ranger 85! These fish are from 50  to 100 pounds! Bring your heavy gear!