June 13 2019
June 13, 2019
Boats fishing the Tuna grounds today are reporting good fishing and beautiful weather!
The Old Glory is departing tonight for a 1 day trip!
Friday night departures:
Legend 1.5 day & Top Gun 80 2.5 day still have open spots!
The Daiwa Pacific returned from their overnight trip with 2 Bluefin tuna, 7 Yellowfin tuna, and 1 Yellowtail!
The Bluefin Bite Continues! In addition, there are Yellowfin and Yellowtail in the mix.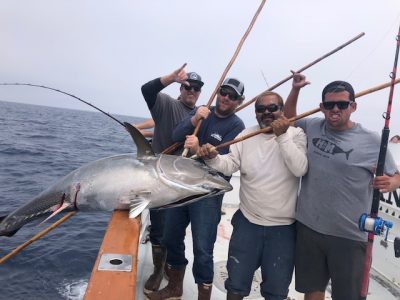 Good weather and GREAT fishing continues for the fleet Offshore.
Full-Day, Overnight and Multi-Day Trips are your best bet to score a fish of a lifetime!
Don't delay, RESERVE your trip TODAY!